Changing Careers? – It's Easier Than You Think!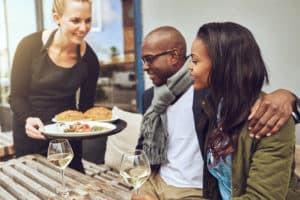 Thinking about changing careers?  It's easier than you think!  If you have experience as a successful server you already posses many of the skills need to excel in cosmetology! Here are 10 skills that are transferable from server to cosmetologist:
Customer focused – Servers and cosmetologists alike are constantly focused on customer satisfaction.  You are working hard to ensure your customer leaves happy and wants to continue returning for years to come.
You like people – Both servers and cosmologist like to work with an around people.  Talking to your customers, smiling, and having a friendly attitude are important parts of both jobs.
You can multitask – Part of being a server is managing multiple tables at once. Cosmetologists manage the hustle and bustle of the salon.  Both of you know how to word a crowd!
You are used to managing money with tips – Tips are a part of both jobs and can sometimes make up a large portion of your income.  It is important to know how to manage your money when you depend on tips and how to report them on your taxes.
Cleaning – Servers wouldn't give their customers a dirty plate or seat them in a dirty booth. Making sure you are upholding safety and sanitation expectations is a critical part of a career as a cosmetologist.  it is your job to keep your clients safe and keep your station and tools clean and sanitized.
Flexible schedules – You are probably used to working odd hours as a server.  Cosmetologists hours are more regular, plus it is easier to schedule around events and activities.
Team work – In both positions you work with others on your team to help the business thrive.  Being dependable as well as being able to depend on your team are important traits of both positions.
Upselling – As a server you tell your customers about the latest specials as well as try to offer complimentary items to increase the total.  As a cosmetologist you will suggest complimentary services and products that not only help the customer but also increase the overall ticket.
Resilience – You try your best to make sure every customer leaves happy.  Occasionally things might not be perfect but you bounce back, learn, and adapt to be ready for the next customer. Cosmetologists are no different.  Occasionally an appointment might not go perfectly and being able to bounce back is an important skill.
You can market yourself – you invite people to your restaurant all the time, you may even be posting on social media about it.  As a cosmetologist is is important to build your brand where ever you go and constantly put yourself out there to find new clients.
Find out more about how you can get started in a new career as a cosmetologist at Clary Sage College!