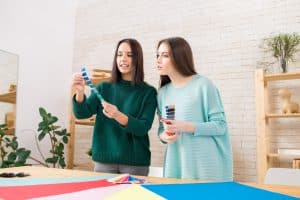 So you're ready to make a change in your home (or maybe you're career), and you're not sure where to start. If you're considering calling a professional, you might be wondering who you should call. An interior designer? An interior decorator? 
While there are many similarities, interior design and interior decorating do in fact have distinctions. As you decide on which route to take, it will be important to evaluate the difference between designers and decorators – their credentials, schools, services, and type of clientele.
Interior Design
Schooling: Interior design professionals are required to have specific schooling and formal training. Their work involves computer-aided design (CAD), space planning, studying color and fabric, drawing, furniture design, and architecture to name a few. Once they've graduated, designers can take an apprentice track to become established in the industry.
Credentials: In some areas, designers are required to pass an exam and register with the governing council before they can be called designers. However, there are just as many areas that do not require credentialing. Make sure to research this before choosing your interior designer.
What they do: From drawing up floor plans to placing decorative accents, designers are comfortable with planning spaces and designing and removing interiors. They enhance the function of the room, not just the look.
Who they work with: Interior designers often work hand in hand with architects and contractors to achieve the look that their client desires, whether they are designing an office, hotel, home, or any other space. 
Interior Decorating
Schooling: Unlike interior designers, interior decorators are not required to have formal training or schooling. They primarily focus on the aesthetics of a space, rather than the renovations or structural planning. When planning and execution are complete, the decorator enters the picture to focus on the surface of the space. 
Credentials: Even though no schooling is required to become an interior decorator, there are many programs and courses available. For example, Clary Sage College offers an Interior Design program that can be completed in as few as 14.5 months. These courses focus more on color, fabric, room layouts, space planning, furniture styles, and more. 
What they do: Great decorators can walk into a room and make a space cohesive, functional, and stylish. For new spaces, they can assist clients with finding their style, choosing a color scheme, buying furniture, and accessorizing the space. For existing spaces, decorators use their keen eye to spruce up a room or office.
Who they work with: Decorators don't usually work with architects or contractors like interior designers, since structural work is complete before they are hired. They do work with furniture makers, upholsterers, and other professionals to create a space. Generally, their most direct contact is with the homeowners or business managers. 
So Who Should I Hire?
Ask yourself what you need. Do you need structural changes, like removing a wall, adding new windows or doors, or moving plumbing? Sounds like a designer is your best choice. However, if aesthetics are what you're looking for – choosing wallpaper; picking window treatments; deciding on your style – an interior decorator is your best choice. Experienced decorators can turn your decorating dreams into a reality. 
Looking to Become an Interior Designer or Decorator?
You're in luck! Clary Sage College offers a program where you can learn to address the design of a space while learning to craft your own aesthetic vision. With experienced instructors, hands-on curriculum, and career assistance, this program could be your next best step to your dreams! Learn more here.