Tips For a Successful Barbering Career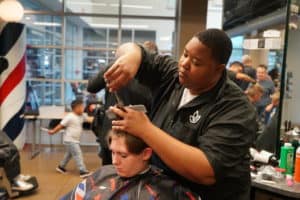 Working as a barber is a solid career choice. People will always need haircuts, and certification means you can provide them. Attending barber school to get certified is the ideal entry path to this career. After graduating, you can begin work as a barber. Clary Sage College is here to guide you through the entire process of starting in the world of barbering.
Getting Started in Barbering
The first step into barbering is training. Before you can work as a professional, you must undergo rigorous training to ensure you're up to the task. A barber does more than cut hair. They revitalize how their clients look and instill confidence and courage. As such, it's logical there's extensive training required. Trainees learn styling, chemical processes, and facial hair maintenance as part of the Clary Sage College Barbering Program. Passing the licensing exam requires 1,500 hours of training. Completing this training with us is the best way to get started barbering. Our team ensures you flourish as a barber and develop relevant customer service and management skills.
Earning Your Barbering Certification
There aren't many better places to earn your barbering certification than Clary Sage College. Our barber program teaches the intricacies of the career and gives students a chance to hone many skills. The straight razor shave is the finishing touch for most people on a trip to the barbershop. Combined with beard trimming, this forms an integral part of studies. There's much more to barbering than just haircuts. The best part of earning your certification with us is the on-campus barbershop that welcomes people from the community. The skills learned in our barbering program prepare you for the Oklahoma State Board of Cosmetology and Barbering Licensing Exam. After passing this exam, you've earned your barbering certification and can get to work.
Essential Tips for Beginner Barbers
One of the most vital things for beginner barbers to do is practice. Furthering your understanding of your barbering tools, what they do, and how best to use them takes time. Mastering basic hairstyles and cuts is a must, as is practicing good hygiene. Beginners who envision a long-term future in the role should focus on building client relationships. It helps improve your reputation and create a client base, so exceptional interpersonal skills are crucial. One of the most essential aspects of working as a barber is the devotion to ongoing learning. Learning to be a barber is always an opportunity, so it's important to prepare yourself for the professional world.
If you're looking to train as a barber, you need the Clary Sage College Barbering Program. Our 51- or 71-week programs are your gateway to working as a barber. Our professional careers services team is here when you study and after you graduate to ensure your success.