Recently, Clary Sage College brought in Dermalogica skin care products.  Being in my mid-40's, I'm always up for new skin care products. Dermalogica has a line of products for any possible skin issue, as if their base line – the Gray line – wasn't enough to transform anyone. Of particular interest to me, though, is the AgeSmart products, so I happily grab my little samples and rush home to try them all.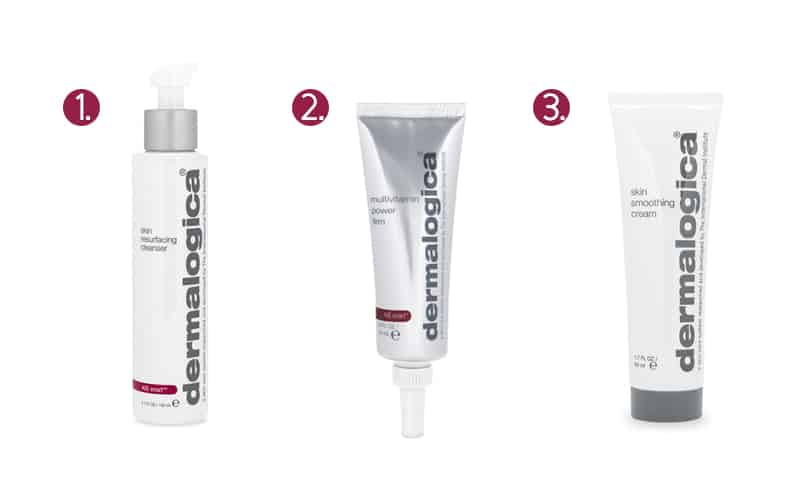 First up is Skin Resurfacing Cleanser. It does exactly that! This cleanser exfoliates and infuses the skin with antioxidant vitamins with each use. As we age, the cell renewal process slows down, leaving dry, dead cells on the surface. This is why our skin can look dull and dry, so that extra boost from  the cleanser makes my skin look fresher and brighter. That's always a great start!
The next product is MultiViatmin Power Firm. With a name like that, how could I not be ready to immerse myself in it? This is a treatment designed for addressing wrinkles in the eye area, but can also be used around the lips where we can find little, fine lines. It's packed with antioxidant vitamins to nourish delicate skin. Some products that are designed to firm leave my skin feeling overly tight, but this leaves my eyes feeling fresh. The texture of the product is so silky-soft, it doesn't tug at the tender skin around the eyes.
Lastly, there's a product from the Gray line that I've used before and absolutely love: Skin Smoothing Cream. It's a moisturizer that is described as medium-weight, but it sinks into the skin and leaves no greasy or oily residue. It's infused with antioxidant vitamins, aloe gel, and hyaluronic acid, which simply described, attracts moisture and binds it within the skin. It leaves skin feeling fresh and clean, but not tight. I have to note that it does not contain an SPF.  A different moisturizer can be used for day wear like Dynamic Skin Recovery SPF 50, or you could add Solar Defense Booster for the daytime to protect against sun damage – 'cause let's face it, that's why most of us need anti-aging products to begin with!
I hope you'll join me in trying out this awesome line of skin protection products. I know I'm excited and looking forward to trying everything I can. Now I'm off to make room in my bathroom cabinets for all the new products I'll be bringing home!