The term organic is everywhere. Why should you choose it for your skincare regimen? Well, because it's better for you. When you choose organic skincare, you are choosing products whose ingredients work with your skin, not against it. Our bodies absorb what we put on our skin into our bloodstream, so let's avoid toxic, synthetic chemicals such as Benzoyl Peroxide, Dixon and Parabens, and go for organic alternatives such as aloe, rosewater and vitamins.
Our friends at Clary Sage College and Clary Sage Salon and Spa understand the benefits of organic skincare. So much so, they created an all organic Clary product line. We love it! Here are a few items you need in your skincare routine.
Organic Aloe and Rosewater Toner 
This is not your mothers alcohol based toner, but rather an invigorating mist that hydrates and reduces redness. The Organic Aloe and Rosewater Toner gathers healing properties from aloe and rose to help reduce acne and aging. Clary toner tightens pores, adjusts PH and helps remove any remaining makeup, oil, or dirt.
Organic Aloe & Lavender Gel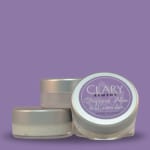 Organic Aloe & Lavender Gel is the perfect lightweight, non-oily moisturizer to go on under your sunscreen. This gel moisturizes and soothes dry, irritated or red skin. You can even apply it to cuts, burns and even chapped lips, making it the perfect beach bag accessory. It smells heavenly, too!
Lemon (Blemish) Aid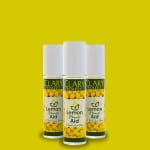 Lemon (Blemish) Aid is all the aid you need. This oil free cooling Lemon and Tea Tree blend targets problem areas while hydrating skin and reducing inflammation. Its rollerball application enables just the right amount for blemishes and is perfect for everyday travel. Use at any time of day under or over makeup. It is especially effective before bed.
Do you you use organic products? Have you noticed a difference in your skin? Let us know below!