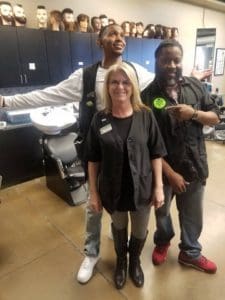 If you're passionate about beauty and fashion and want to spend your future helping others feel good about themselves, a career in cosmetology could be right for you. Cosmetology is a broad field with many career options.
 Clary Sage College has programs that can get you started in a cosmetology career.
Make-Up Artistry
Take your make-up skills to the next level with our make-up artistry program. In this program, you will learn how to create different kinds of make-up looks. Our make-up artistry program prepares students for the Oklahoma State Board of Estheticians Licensing Exam. We help you prepare for a future career in a salon, as a freelancer, or working in TV and film.
Fashion Design
Our fashion design program is delivered in class or online and is tailored to fit your schedule. We teach industry basics, including presentation skills and brand development techniques.
During our annual Clary Runway fashion show, you have the opportunity to showcase your designs.
Esthetics
In our esthetician program, you will learn the ins and outs of skincare and beauty. To help our students stand out, we cover theory, biology, and ingredient knowledge. After you've mastered those skills, you can put your knowledge into practice in our esthetics spa.
Choosing a quality esthetics program helps you acquire the techniques needed to flourish as an Esthetician.
Barbering
Precision and style are at the heart of barbering. Our barber program teaches you how to harness the abilities you'll need to become a barber. We teach you the importance of building client relationships, hygiene, sanitation, and salon maintenance. Our barber graduates go on to pursue careers in the industry thanks to our seasoned faculty guiding them through their studies.
Cosmetology
At Clary Sage, you will receive a well-rounded education in cosmetology. We help you develop skills in all areas of the beauty industry including haircuts, color, styling, braiding, skin care treatments, manicures, and pedicures.
Explore Our Programs
We offer different programs and class schedules to fit your career goals and schedule needs. Click here to check out a program that may interest you.
Enroll in Clary Sage College
If you're new to the beauty industry or making a career change, Clary Sage College could be for you. Graduates of our programs have shared that they've felt right at home while embarking on a new journey with us.
Our faculty and staff have held high positions within highly respected organizations, which is reflected in their care for our students. We have a career services team that is dedicated to helping others achieve their goals.
At Clary Sage College, we care about you. Contact us to learn more about our programs.