You might think you have your finger on the pulse of the latest interior design trends, but with the industry moving so fast it can be hard to keep up. If you want to be an interior designer or are looking for a place to enroll in an interior design school, you might want to keep reading. Part of being an interior designer is a constant learning process. Styles and the functionality of different colors, textures, patterns, and other interior design elements are always changing. Recently, we've started to notice a trend of using tribal jewelry as decor. We've seen masks, paintings, and books, but now designers are even starting to use jewelry to design unique and engaging spaces. This is just one example of how interior design is changing. Below are the three main trends that you will see come to life this Spring in 2019.
Eco-friendly Interior Design
We're pretty sure you saw this one coming. People are so much more aware of how their homes are affecting and interacting with nature. Eco-friendly or "green" interior design is geared toward reducing the impact that the furniture and design industry can have on the environment.  Interior designers work tirelessly to improve the quality of indoor air in homes. This might not seem like the most pressing matter to you when picking out furniture, but as the science teaches us more about its importance, the industry adjusts to accommodate.
According to the U.S. Environmental Protection Agency, most Americans spend approximately 90% of their time indoors. It is proven that inside spaces can have 2-5 times greater concentration of pollutants than outdoor spaces. This research shows how important it is to incorporate more natural structures and textiles in the home for cleaner air. More natural products have been proven to have a positive impact on our indoor air quality. Many sustainable products such as natural woods, fabrics, and finishes can do just that.
Neutrals
Going along with the natural trend, it is also important to incorporate neutrals into your interior design spaces. Neutrals used to represent a lifeless space as they were shown in old fashioned furniture and shag carpets. Now, neutrals are being reinvented in a fresh and clean way. Minimalism in design and style is one of the easiest ways to incorporate neutrals into any space. Neutrals also work well with eco-friendly homes to bring out a light and airy feeling.
Now, I know what you're thinking, "I don't want to design with only neutrals for spring!" I understand this completely. Each interior designer is different and can put their own twist on popular seasonal styles. One way to use the neutrals trend with some color is to add in yellow. Yellow is definitely not anyone's first choice for furniture but you'd be surprised how versatile it is. If you're looking to spice up your minimalistic home, yellow is a great pop of color to add in.
Nostalgic Trends
While you might not think of the '70s and '80s design trends as stylish anymore, they are making a comeback with full force! As a result, over-scaled furniture, light-colored woodwork, brass accents, mixtures of patterns, colors, textures, are all making their way back into modern designs. We all know that some styles from that era are less than desirable, but it seems as though most of those reemerging trends have taken a sudden turn for the better. As a result, they are being used in new ways that give the nostalgia of the time without all of the overbearing designs.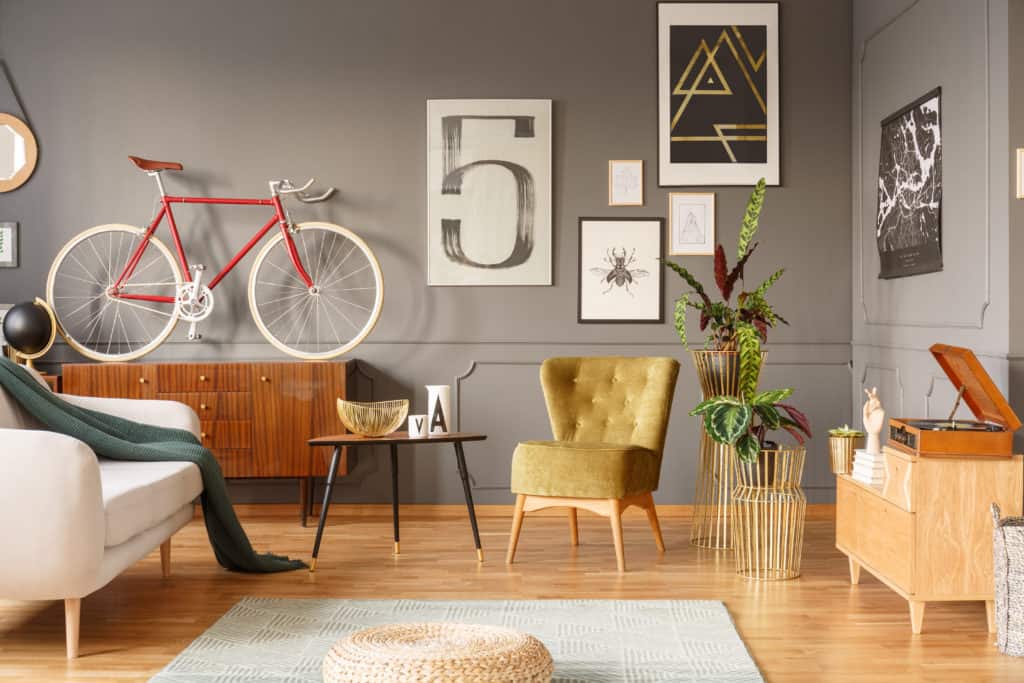 I believe these 2019 interior design styles are the next big thing, however, your style might be different. Interior designers do not always see eye to eye. If you feel that you have the interior design gene, our Clary Sage College Interior Design program might just be the right path for you.
From the desk of Alexandra Carlson-Erichsen, Clary Sage College Interior Design Department Head and Instructor.